New Moon Farm is a private boarding stable located in Rockford, Illinois.
Our primary focus is providing top quality horse care. With just 11 stalls, we are able to give individual attention to each horse and maintain quality pastures for summer grazing. This is our home and taking care of horses is our full time job.
We are dedicated to the safety and comfort of the horses in our care.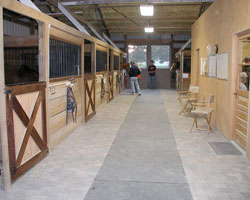 Facilities designed with the horse in mind
Large, bright stalls with rubber mats.
Insulated and well ventilated stables.
Safe and secure fencing.
Clean, fresh water available at all times.
Daily turnout.
Pasture access throughout the summer.
All-weather paddocks cleaned daily
For more detailed information about what is included in the board, please visit the Boarding page.
Our mission...
is to provide quality care and a stress-free environment for our horses. We do this by keeping them as naturally as possible. We are not a show barn. The atmosphere here is relaxed and friendly. Our boarders love their horses and want the best possible life for them. We strive to provide a safe and comfortable facility for our horses and their owners.

Click here to visit us on Facebook!
This site last updated December 10, 2018