Answers to some frequently asked questions:
Do you have any open stalls?
Currently all stalls are full. If you would like to be added to the waiting list, please call or email us with your contact information.
How much is the board?
The East Barn is $445 per month.
The West Barn is $470 per month.
Sorry, we don't offer pasture board or self care options.
What is included in the board?
A large, bright stall that is cleaned daily.
Pelleted bedding, good quality alfalfa mix hay, and grain.
A complete vitamin/mineral supplement is included in the daily feed.
(There is no charge for giving supplements if they are in plastic bags or SmartPacks.)
Daily turnout (weather permitting) with fly masks in summer.
We will do limited blanket changing.
If you are full, can you suggest another boarding barn?
The following web links may be helpful:
Do you rent horses for trail rides?
We do not rent horses for trail rides.
We are strictly a boarding stable and the horses here all belong to private owners.
Click on this link, WorldWeb.com, to see a list of stables in northern Illinois that offer trail rides.
I want to learn to ride but I don't own a horse.
If you are looking for riding lessons and you do not own your own horse please call Trailside Center (815) 987-8809. They have an extensive lesson program and many lesson horses.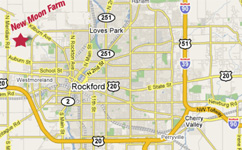 Contact Us
If you have any other questions or would like to be added to our waiting list, send an email to "info AT newmoonfarm DOT net"
Or call us at (815) 963-4330 to set up an appointment to come and see our farm.

To see the map in more detail, click on it to be taken to Google Maps.
Please note: We have a strict helmet policy. Anyone riding on the property must wear an ASTM certified helmet while mounted.
This page last updated March 24, 2015