West Barn
The west barn is our newest addition. The stable area has 5 stalls, a heated tack/observation room and a wash rack with hot and cold water. Large windows let in plenty of sunlight. In summer, screens in the windows and doors let breezes in while keeping flies out. The indoor arena is part of the west barn.
Outdoor Arena
The outdoor arena is 100' x 225.' It is completely fenced and easily accessed from both barns or the indoor arena.
Indoor Arena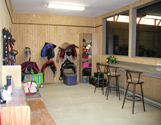 The indoor arena is 60'x144' with sand footing. Clear panels on both sides and high efficiency, daylight quality fluorescent lighting make the arena very bright day or night.

The tack room is also an observation room. The large window is mirrored on the arena side.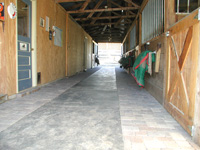 East Barn
The east barn has 6 stalls. There is a heated Feed Room, a tack room and a heated wash rack with hot and cold water. Doors at both ends of the barn have screens in summer to increase airflow while keeping flies and birds out.
Trails
The north end of our property borders Page Park Conservation Area. Hundreds of acres of park land are open to horseback riding year round. A short trail from our northwest gate leads into the main equestrian trails in the park. The trails in Page Park connect to horse trails in Lockwood Park. The trails wind through hardwood forest and open meadows. There are hills to climb, bridges, and water crossings throughout the Page/Lockwood Park complex.

To see more photos of the farm please visit the Photos page.